Add your review
Review Purple Punch // OZ Special
Purple Punch // OZ Special
C$79.00
Unit price: C$3.54 / Gram
Strain Type: Indica Hybrid (80% Indica, 20% Sativa)
THC: 18%-20% CBD: 1%
Flavours: Blueberry, Candy, Grape, Sweet, Vanilla
Effects: Euphoria, Happy, Hungry, Relaxing, Sleepy, Uplifting 
May Relieve:  Chronic Pain, Depression, Insomnia, Nausea, Stress
Strain Type: Indica Hybrid (80% Indica, 20% Sativa)
THC: 18%-20% CBD: 1%
Flavours: Blueberry, Candy, Grape, Sweet, Vanilla
Effects: Euphoria, Happy, Hungry, Relaxing, Sleepy, Uplifting 
May Relieve:  Chronic Pain, Depression, Insomnia, Nausea, Stress
Purple Punch strain is created through crossing the classic Larry OG with the deliciously potent Grand Daddy Purps. With a one-two punch to the head of euphoric lifted effects and a super high 18-20% average THC level, you'll feel the knockout high of Purple Punch almost immediately. You'll feel a slam of euphoria followed by a heady lift that launches you into a state of pure happiness. As your mind creeps higher and higher, your body will begin to drift away into a relaxing state that is very sedative and heady, often leading to a long and peaceful sleep. In combination with its high THC level, these effects make Purple Punch perfect for killing the effects of insomnia, chronic stress, nausea, chronic pain, and depression.
0 stars based on 0 reviews
Related products
Related products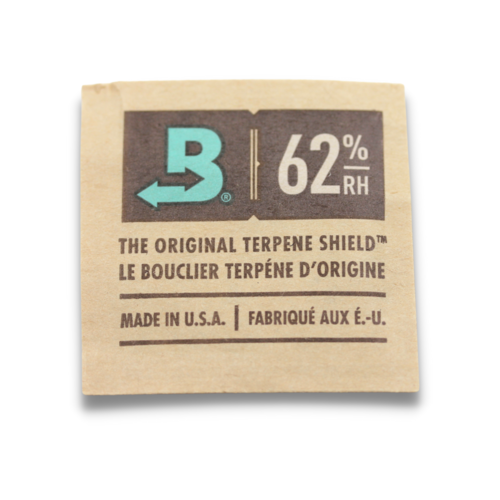 The Original Terpene Shield - 2-Way Humidifer Pack
Preserves the aroma, flavor and effectiveness until after the grind. Boveda creates a monolayer of purified water molecules that naturally coats trichomes to shield terpenes and cannabinoids preserving the smell until use.
Purple Punch
Strain Type: Indica Hybrid (80% Indica, 20% Sativa)
THC: 18%-20% CBD: 1%
Flavours: Blueberry, Candy, Grape, Sweet, Vanilla
Effects: Euphoria, Happy, Hungry, Relaxing, Sleepy, Uplifting 
May Relieve:  Chronic Pain, Depression, Insomnia, Nausea, Stress