Shipping & Delivery
Shipping & Delivery
Shipping
Ordering online can be stressful.  We want to make it simple and easy for you!
We ship to all Canadian addresses.  Anywhere you are in Canada, we can get your package delivered to you.
Our shipping packaging is discreet and professional, and makes no visible indication of the contents of the package.  Plus, it's entirely recyclable!  Make sure you recycle your mailer after you receive it.
Orders placed and paid before 2pm PST from Monday to Friday are mailed the same day. Shipping is only done on business days; orders are not shipped on Saturday, Sunday or holidays.
Shipping time-frames do not include handling time, and begin as soon as your receive your shipping confirmation email.  Once your order is received by Canada Post, we have no control over the delivery speed anymore.  Note that unexpected changes and delays can occur without notice.
We are not responsible for orders shipped to incorrect addresses. Please carefully enter your mailing information when creating or editing your account.
Shipping rates:
Shipping rates and time-frames are taken live and set directly from Canada Post. Alternative shipping rates cannot be offered, with the exclusion of promotional shipping discounts.
All orders of $65 and over receive free shipping!
If you are redeeming points and purchasing for over $65 at the same time, your free shipping will be removed by the website.  This is something we can't change, but we don't want you to pay for shipping! Simply send us your payment for the total minus the shipping fees, and we will process your order.
Same-day Delivery for the Greater Vancouver Area
We offer a delivery service for the Greater Vancouver Area (GVA).  Available 7 days a week, get your order delivered right to your door!
How it works:
All orders placed and paid before 3pm will be delivered the same day, before 6pm.  Everyday!

If you place your order after 3pm, it will be delivered the next day between 12pm and 6pm.
You need to be home to receive your package.  You will receive 1 hour notice by phone to let know when your order will be delivered.
Delivery Fees:
Orders over $99 are eligible for delivery. 
We charge a $15 fee for all deliveries.  This will be shown at checkout and added to your invoice.
This service is free temporarily!
Delivery Area:
We only deliver to the Greater Vancouver Area, excluding Bowen Island.
If your address is outside the delivery area, your order will be processed for shipping.
Not sure if your address is part of the GVA?  Check out the map below. Our GVA delivery area is marked inside the red lines.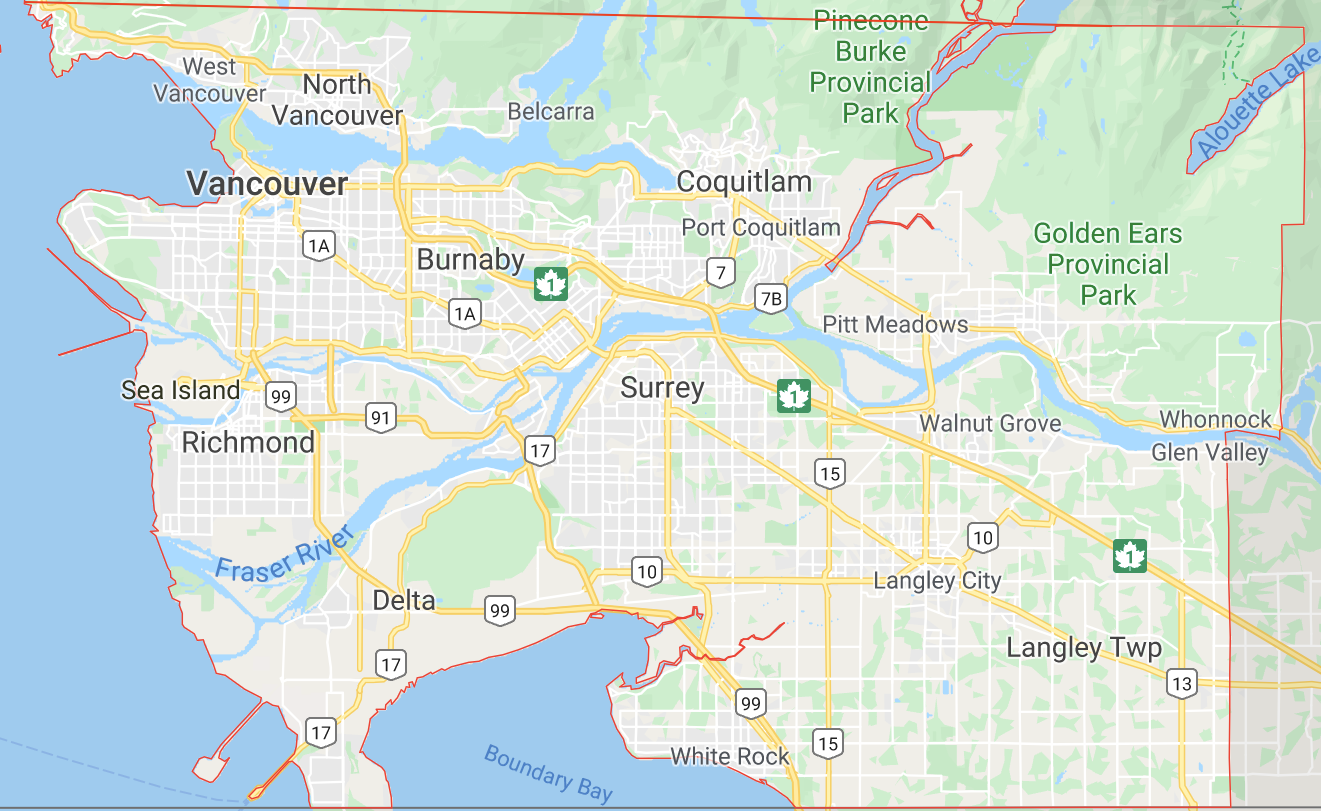 Questions?  Contact us and we will be happy to help!
See our Contact page for information about returns & exchanges.