Add your review
Review Chill Penis Envy Psilocybin Microdose Capsules - 200mg
Chill Penis Envy Psilocybin Microdose Capsules - 200mg
Chill Concentrates Psilocybin Capsules are made with high-quality Penis Envy Mushrooms, known for their high concentrations of psilocybin and psilocin, which are psychedelic compounds that can produce intense, visual, and euphoric experiences when consume
Chill Penis Envy Psilocybin Microdose Capsules of 200mg Psilocybin per capsule.
Ideal for beginners or those looking to microdose.
Psilocybin microdosing capsules are capsules that contain a small, sub-perceptual dose of psilocybin, a naturally occurring psychedelic compound found in certain types of mushrooms. Microdosing refers to the practice of taking very small amounts of a psychedelic substance, typically in the range of 0.1-0.5 grams, in order to experience subtle changes in mood, cognition, and behavior without the intense, full-blown "trip" associated with larger doses. Psilocybin microdosing is often used for therapeutic or self-improvement purposes, and proponents of the practice claim that it can help to reduce anxiety, improve mood, and increase creativity and productivity. 
Chill Concentrates Psilocybin Capsules are made with high quality Penis Envy Mushrooms.
Penis Envy are known for their high concentrations of psilocybin and psilocin, which are psychedelic compounds that can produce intense, visual, and euphoric experiences when consumed.
Perfect for enhancing your mood and to maximize clarity. These will aid with getting rid of addictions, will help in cognition and creativity, alleviate depression and anxiety and many other mental disorders.
Recommended Dose:
1 capsule every 2nd to 3rd day, it is best to have a light meal before consuming.
Storage:
Keep out of reach of children & pets.
All capsules have a shelf life of 1 year, if placed in a cool place away from direct sunlight.
Vegetarian capsules.
5 stars based on 1 reviews
03 Apr 2022
Jacob mckay
Highly recommend
Related products
Related products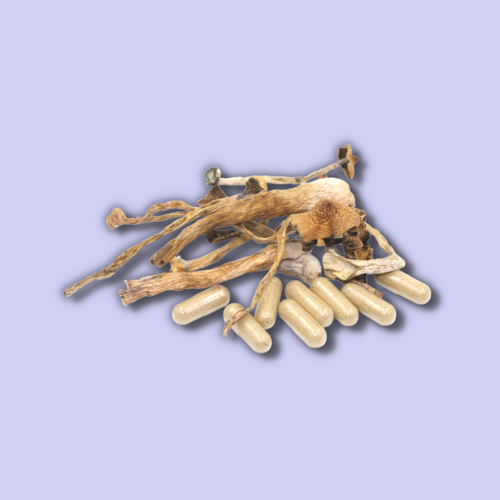 Golden Teacher Psilocybin Microdose Capsules - 200mg
Chill Concentrates Psilocybin Capsules are made with high-quality Golden Teacher Mushrooms, it has a slightly above-average psilocybin content. They are not as potent as Psilocybe Azurescens or as Blue Meanies, but they are by no means weak.