Add your review
Review THC Puff Gummies - 600mg - Delta-9 Distillate
THC Puff Gummies - 600mg - Delta-9 Distillate
THC edibles by One Up. 10 gummies per pack.

Available in 2 different flavours Strawberry and Watermelon.
Soft, pillowy clouds of strawberry and watermelon goodness, these tender morsels are sure to delight your taste buds with every bite. These dummies Puffs are strawberry and watermelon flavoured gummies with a soft and fluffy texture, coated in a tangy sweet goodness.
10 cannabis-infused gummies
Each bag contains 600mg of THC
Each gummy contains 60mg of THC
Nutrition Facts
Serving Size: 10 pieces
Calories: 220 / Fat: 0g / Sugars: 24g / Protein: 4g /Sodium: 50mg / Total Carbohydrates: 50g
Ingredients 
Corn Syrup, Sugar, Gelatin, Sorbitol, Citric Acid, Lactic Acid, Natural and Artificial Flavors, Sodium Lactate, Titanium Dioxide (Color), Calcium Lactate, Red 40, Coated in THC.
4 stars based on 2 reviews
07 Mar 2022
rocky
So these are great fun, particularly due to the use of the Delta 9, rather than the 8 bc it has a more pleasant, useful bodily effect for those medicating for pain, sore tired muscles etc.<br />
Our only issue is that I/we try for vegetalien most of the time and so are unsuitable due to the use of the rendered animal product gelatin, instead of cheap readily available agar. This company also makes shroom products, so why? rates, bc the last thing a religiously vegan tripper wants to discover is that the mushroom fairies are dancing with dead beasts in their belly. We are more pragmatic though, they were fun, but will now discontinue, being fully informed on ingredients. Agar is made from, e.g. - bountiful seaweed. Cheap, plentiful, no deathflesh
23 Nov 2021
Santiago Pineiro
These gummies are soooo good!!! I<br />
Love them.
Related products
Related products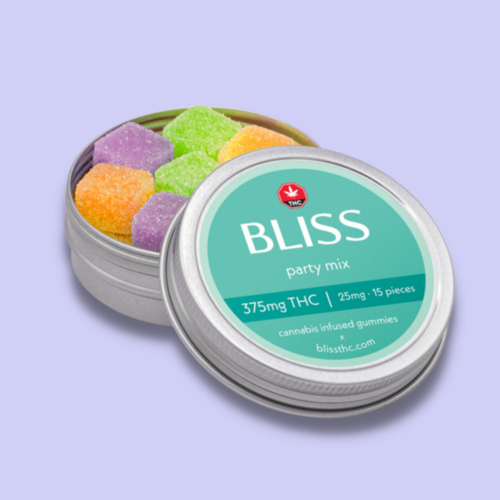 THC Gummies - 375mg
Assorted THC gummies by Bliss. 15 gummies per tin.