Add your review
Review Raspberry Cough
Raspberry Cough
Strain Type: Sativa
THC: 15%-24% CBD: 1%
Flavours: Berry, Herbal, Orange, Spicy, Sweet
Effects: Energizing, Euphoria, Focus, Happy
May Relieve: Asthma, Chronic Pain, Cramps, Depression, Fatigue, Fibromyalgia, Multiple Sclerosis, PTSD, Stress
Strain Type: Sativa
THC: 15%-24% CBD: 1%
Flavours: Berry, Herbal, Orange, Spicy, Sweet
Effects: Energizing, Euphoria, Focus, Happy
May Relieve: Asthma, Chronic Pain, Cramps, Depression, Fatigue, Fibromyalgia, Multiple Sclerosis, PTSD, Stress
Raspberry Cough is a hybrid strain that's mostly sativa (70% sativa/30% indica) and was created by crossing Cambodian Landrace and ICE strains. With an average THC level ranging from 15-24%, this strain provides an energizing and peaceful high. The Raspberry Cough high begins with a quick and clear-headed cerebral rush, which leaves you feeling focused and motivated. It also eases breathing with a lengthy lung expansion, and doesn't cause coughing. Additionally, there is a mild warming body high that complements the head high, leaving you relaxed and peaceful while still being alert and functional. Raspberry Cough is an excellent option for treating medical conditions like asthma, chronic fatigue, mild to moderate depression, and chronic stress or anxiety. This strain has an aroma of sweet earthy raspberries with nutty undertones, and its taste is sweet with raspberry flavor and hints of earthy and nutty notes.
0 stars based on 0 reviews
Related products
Related products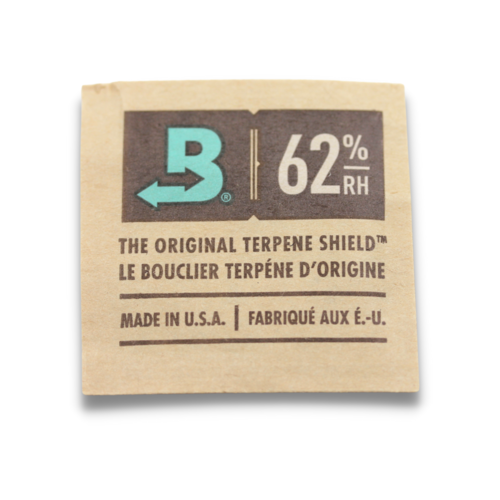 The Original Terpene Shield - 2-Way Humidifer Pack
Preserves the aroma, flavor and effectiveness until after the grind. Boveda creates a monolayer of purified water molecules that naturally coats trichomes to shield terpenes and cannabinoids preserving the smell until use.