Add your review
Review Pineapple Chunk
Pineapple Chunk
Strain Type: Indica Hybrid
THC: 16%-26% CBD: 1%
Flavours: Cheesy, Pine, Pineapple, Skunky, Sweet, Tropical
Effects: Creative, Energizing, Euphoria, Happy, Relaxing, Uplifting
May Relieve: Arthritis, Chronic Pain, Depression, Fibromyalgia, Insomnia, Lo
Strain Type: Indica Hybrid
THC: 16%-26% CBD: 1%
Flavours: Cheesy, Pine, Pineapple, Skunky, Sweet, Tropical
Effects: Creative, Energizing, Euphoria, Happy, Relaxing, Uplifting
May Relieve: Arthritis, Chronic Pain, Depression, Fibromyalgia, Insomnia, Loss of Appetite, Migraines, PTSD, Stress, Tremors
Pineapple Chunk is a distinctive hybrid strain that's mostly indica-based. Its two most prominent characteristics are its fast-acting buzz and potent effect. This strain has a high THC content (nearly 26%) and a CBD level of 1.1%, making it a highly rewarding experience for smokers. Its heavy effect means that it should not be used in social settings, as it can make users very stoned. Pineapple Chunk is commonly used for medicinal purposes, particularly for treating chronic pain and severe depression. Some smokers may feel an intense cerebral energy, so it's not recommended for those who suffer from insomnia. This strain has an earthy, cheesy aroma with a hint of pineapple, which is likely how it got its name. The smoke is incredibly smooth and has a delicious pineapple taste, with subtle earthy undertones.
0 stars based on 0 reviews
Related products
Related products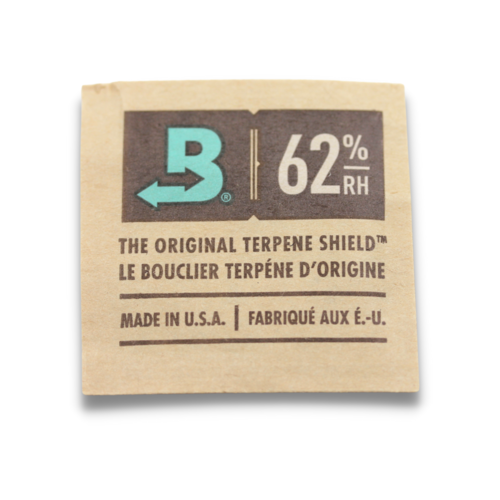 The Original Terpene Shield - 2-Way Humidifer Pack
Preserves the aroma, flavor and effectiveness until after the grind. Boveda creates a monolayer of purified water molecules that naturally coats trichomes to shield terpenes and cannabinoids preserving the smell until use.