Add your review
Review Cookies and Creme - Shroom Infused Chocolate
Cookies and Creme - Shroom Infused Chocolate
Shroom Infused Cookies and Creme Chocolate Bar - 1g
CONTAINS PSILOCYBIN MUSHROOMS.
KEEP OUT OF REACH OF CHILDREN AND PETS. STORE PRODUCT SAFELY. 
Ingredients: White Chocolate (Sugar, Vegetable Oil, Whole Milk Powder, Nonfat Dry Milk, Palm Oil, Soy Lecithin), Natural and/or Artificial Flavouring, Chocolate Cookie Crumbs
Storage: Can store at room temperature. Ideally stored in refrigerator for longer shelf life. 
This item is not infused with THC. This item contains 1g of Psilocybin Mushrooms. 
"Are you ready to integrate psilocybin into your holistic wellness routine? Maybe you're looking to microdose on a regular basis to enjoy the benefits of increased creativity, decreased anxiety and improved mood, or you might be looking to take your next philosophical discussion with friends to the whole new level with a museum dose. Either way, Wonder has you covered.
To micro-dose, consume one piece of chocolate bar, every 90 minutes until desired effects are achieved. To enjoy a museum dose, consume bar and enjoy expanding your mind. Have a wonderful time."
4 stars based on 1 reviews
08 Aug 2021
Nettie
Good flavor, i would buy again
Related products
Related products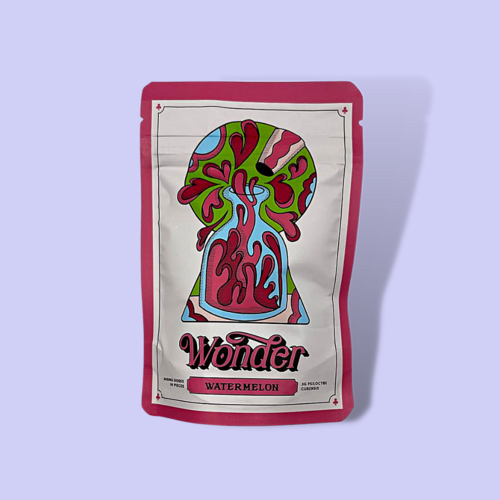 Watermelon - Shroom Infused Gummies
Shroom Infused Gummies by Wonder, 3g.
S'mores - Shroom Infused Chocolate
Shroom Infused S'mores Chocolate Bar - 1g