Add your review
Review Funky Charms // Oz Special
Funky Charms // Oz Special
Strain Type: Hybrid (50% Indica, 50% Sativa)
THC: <22.14%  CBD: < 0.06%
Flavours: Gassy, Candy, Funky, Sweet, Mint-Citrus, Sage
Effects: Bliss, Relaxed, Creative, Energized
May Relieve: Anxiety, Appetite, Pain, Inflammation, Depression, Fatigue, Nause
Strain Type: Balanced Hybrid (50% Indica, 50% Sativa)
THC: Up to 22.14%  CBD: Up to 0.06%
Flavours: Gassy-Spicy, Candy-Like, Funky, Sweet, Mint-Citrus, Spicy-Sage
Effects: Bliss, Relaxed, Creative, Energize
May Relieve: Anxiety, Appetite Loss, Pain, Inflammation, Depression, Fatigue, Nausea, and Stress
Funky Charms is a cross between Greasy Monkey and Rainbow Chip. It truly brings a rainbow of funky flavors, with all-star grandparents in the genealogy, like SourDiesel, GSC, GG#4, and Jack Herer. 
The funky aroma consists of diesel fuel and sage, with hints of citrus and mint, with whiffs of chocolate and vanilla are present. Combusting Funky Charms yields a sweet, mint-citrus flavor, and leaves a spicy-sage aftertaste.
The dominant terpenes, Beta Caryophyllene and Alpha Humulene, are most known for their neuro-protective benefits. Consumers report uses including fighting pain and inflammation as well as reducing depression. Along with this blissful physical relaxation, many users report experiencing a stimulation of creativity, along with a steady stream of energy. 
0 stars based on 0 reviews
Related products
Related products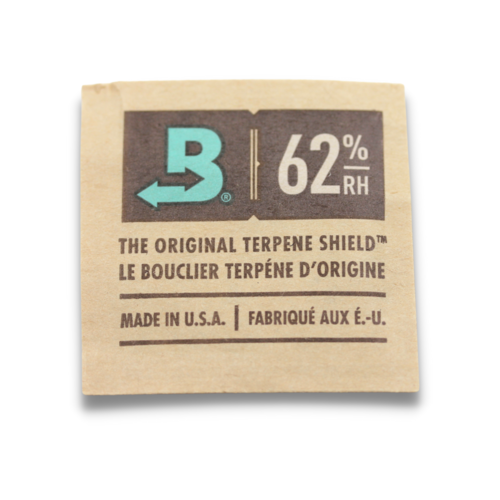 The Original Terpene Shield - 2-Way Humidifer Pack
Preserves the aroma, flavor and effectiveness until after the grind. Boveda creates a monolayer of purified water molecules that naturally coats trichomes to shield terpenes and cannabinoids preserving the smell until use.
MAC1 // Oz Special
Strain Type: Balanced Hybrid (50% Indica, 50% Sativa)
THC: 20-23%
Flavours: Diesel, Herbal, Sour, Sweet
Effects: Creative, Euphoria, Happy, Motivation, Relaxing, Uplifting
May Relieve: Chronic Pain, Depression, Fatigue, Mood Swings, Stress
OZ Special